This open house was active from Feb 11-27, 2022. Information on this website may no longer be current. Email us for more information.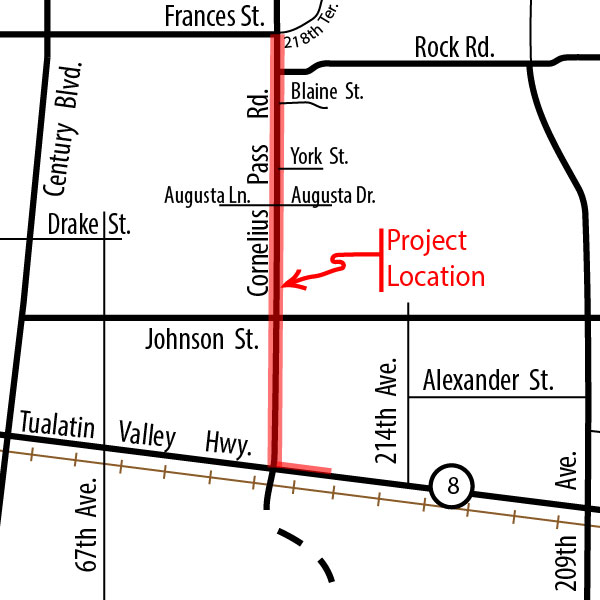 We are widening Cornelius Pass Road between Frances Street and Tualatin Valley Highway (OR-8) to match the road to the north. The road will have two vehicle lanes in each direction, a center turn lane, bike lanes and sidewalks.
We will also install a right-turn lane from Tualatin Valley Highway to Cornelius Pass Road. This project includes updated streetlights and storm drainage.
This is the final widening project between U.S. 26 and Tualatin Valley Highway.
We are coordinating with the Willamette Water Supply Program (WWSP). We will install a 48-inch-wide section of water pipeline for the WWSP. The program is a partnership between the Tualatin Valley Water District and the cities of Hillsboro and Beaverton. The WWSP is building a seismically-resilient regional water supply system in Washington County. Email WWSP or call 503-941-4563.
The Cornelius Pass Road Project and waterline installation costs $32.5 million. The project is funded by the MSTIP Bonding Cost-sharing Program and utility reimbursements. Waterline costs are paid for through the WWSP.